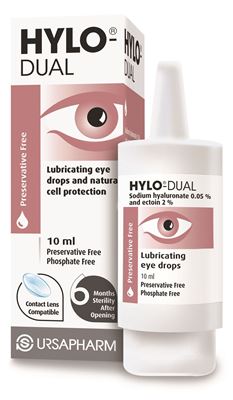 Scope HYLO-Dual eye drops
€18.00
HYLO-Dual eye drops contains 0.05% Hyaluronate and 2% Ectoin.
HYLO-Dual® contains a natural occurring substance called Sodium Hyaluronate which replenishes the tear film and Ectoin which helps stabilise the tear film.

The surface of your eye is covered by a thin layer of tears, called the Tear Film which protects, nourishes and lubricates the eye.
Your tears are protected by a thin outer oil layer to help reduce evaporation and prevent tears from running down your face.

A stabilised tear film with a health oil layer offers protection from tear evaporation.

HYLO-Dual eye drops provide relief from itching and burning eyes and protection against allergens; such as pollen, dust and animal hair.